This is how to make a "Mikazuki", which is used as a stay cloth for hitoe-kimono and yukata.
There are various types, such as shoulder cloth, long and thin ones, and crescent moon shaped.
The most common type is probably the crescent moon shaped, we called "Mikazuki" introduced here.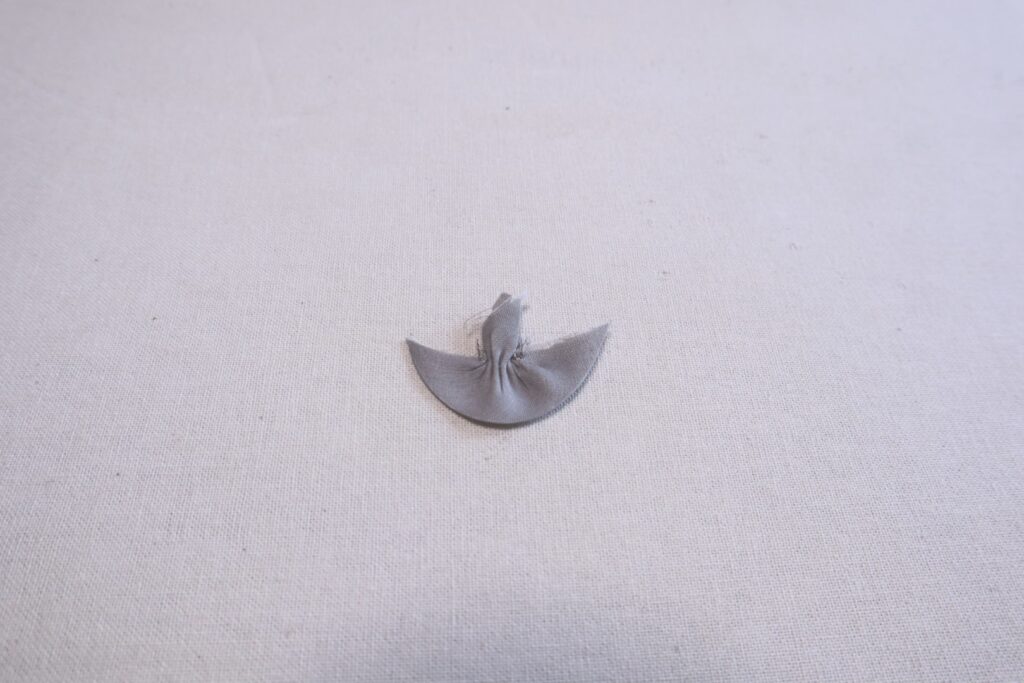 How to make Mikazuki
Prepare two pieces of 3cm x 3cm cloth.
Cut out two 3cm x 3cm squares from the leftover fabric.
If you don't have extra fabric, cut out the part that will be hidden by the seam allowance.
Using origami technique, fold into a triangle and hold tightly with an iron.
Sew down the middle of the triangle.
Sew around the middle of the height of the triangle.
Use a single thread and back-stitch at the beginning of the stitch.
Squeeze the sewing thread tightly and tie a knot while it is squeezed.
You don't need back-stitch at the end of the stitch.
Use an iron to reduce unevenness.
This time, I made a stay cloth with a 3cm square.
When sewing hitoe-kimono and yukata, be sure to attach "Mikazuki" to the Kataaki(slit).
If there is no extra cloth
If you don't have any extra cloth, cut off the portion for the stay cloth from the seam allowance for the Okumi, collar, etc.
The basic rule is to use the same cloth as the outer fabric for the stay cloth.
Where to put the Mikazuki
Attach to the end of the Kataaki slit.
At this point, it's a temporary fix. For the main stitch, fasten tightly when attaching the collar.
Related article
Video Collection
When sewing a kimono, the entire process is sewn by hand. Basic hand sewing practice and partial stitches method can be viewed free of charge.